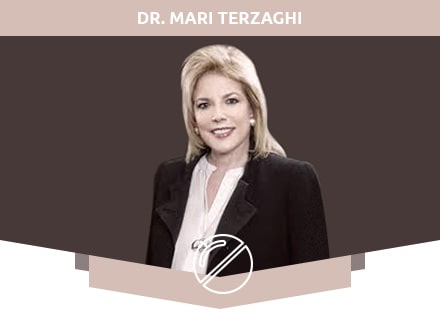 Dr. Mari Terzaghi
Psychotherapist, Psychologist
Biography
Mari Terzaghi is a caring and compassionate psychotherapist practicing in New York City. She is a certified hypnotherapist and psychoanalyst. Dr. Terzaghi majored in psychology and political science at New York University before finishing a PhD in clinical psychology at Long Island University. She is a member of the Royal Society of Medicine, as well as the National Register of Health Science Providers in Psychology and the Association of State and Provincial Medical Boards.
Dr. Terzaghi treats a variety of ailments, from anxiety and depression to personality and sleep disorders. She encourages those seeking counseling for grief or sports performance to visit her practice as well. As Dr. Terzaghi herself says, "Whether you are seeking immediate relief from your symptoms or want life-enhancing change, I am qualified to respond to your needs. I provide an environment in which you can feel safe to participate in the therapeutic relationship that is crucial to the healing process.
Mari Terzaghi, Ph.D., received her doctorate in clinical psychology from Long Island University and is also a Certified Clinical Hypnotherapist. Dr. Terzaghi has dedicated her life to transforming people's lives as a licensed clinical psychologist. Her work has been cited for its excellence and she has won many national and international awards for the therapeutic services she offers. Her private practice has been open for over 30 years, and during her 30 year career, she has worked with many different individuals across varying professional backgrounds, experiencing many different conditions and with various personality neuroses. She has helped people overcome symptoms of depression, anxiety, and experience overall life enhancement.
Specialties
Anxiety
Weight Loss
Mood Disorders
Areas of Expertise
Anxiety
Individual Psychotherapy
Depression and Other Mood Disorders
Borderline and Antisocial Personality Disorders
Couples Therapy
Practice names
Mari Terzaghi, PhD C. Ht.
Education and training
Long Island University, Brooklyn, PhD in Clinical Psychology
.
BA New York University, Certified Psychoanalyst, Postgraduate Center for Mental Health, 1983
Certified Group Psychoanalyst, 1986
Postgraduate Center for Mental Health, Fellowship in Psychoanalysis
New York University (Bachelor's)
Professional memberships
Association of State and Provincial Psychology Boards
Royal Society of Medicine
National Register of Health Service Providers in Psychology
Awards and publications
The International Federation of Psychoanalytic Societies - Joseph Barnett Memorial Award
Postgraduate Center for Mental Health - Sydney Blau Award
Languages spoken
Provider's gender
Mari Terzaghi's office location
Quantum Hypnosis Therapy of New York
165 West 46th Street
Ste 1211A
New York, NY 10036
(212) 819-1214